Kunci Jawaban WOW (Words of Wonders Lengkap) – Game WOW (Words of Wonders) adalah game puzzle berkonsep teka-teki silang, yang menantang kecerdasan dan kemampuan kamu dalam bermain kosakata. Game ini tersedia dalam berbagai macam bahasa dan pemainnya pun tersebar dari seluruh penjuru dunia.
Game yang sudah didownload lebih dari 50 juta pengguna ini bisa kamu download dari Google Playstore (link) atau App Store (link) jika kamu pemakai iPhone. Kamu bisa memainkannya dalam bahasa Inggris ataupun Indonesia. Atau jika kamu sedang belajar bahasa asing, kamu pun bisa kok memilih dalam bahasa Spanyol, Prancis, Italia, dan masih banyak yang lainnya.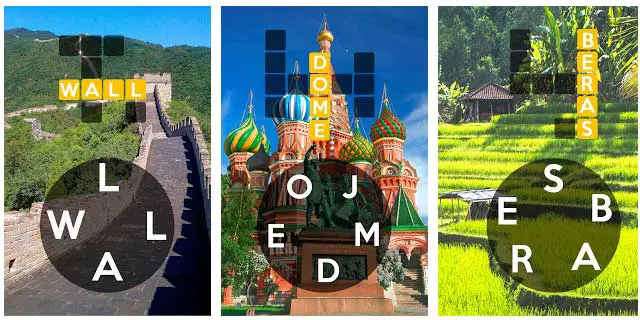 Words of Wonders (WOW) bisa membantu kamu, teman, atau adik kamu dalam dapat meningkatkan kosa kata maupun kemampuan mengeja sambil berkeliling mengenal beragam keajaiban serta kota-kota yang menawan dari seluruh penjuru dunia. Jadi, game ini memang sangat cocok dimainkan baik sendiri, bersama teman, maupun keluarga.
Cara bermain di game Words of Wonders (WOW), kamu memulai dengan beberapa huruf sebagai petunjuk. Lalu, rangkai huruf-huruf ini menjadi beragam macam kata atau istilah, sampai kotak puzzle yang disediakan habis terisi. Simple kan?
Ketika kamu berhasil menyelesaikan level-level di tempat tertentu, kamu akan diajak menunjungi tempat baru sambil menyelesaikan level selanjutnya.
Meski konsep dan cara bermainnya cukup sederhana, tapi tidak dengan jawaban-jawabannya. Semakin tinggi level kamu, semakin sulit kata-kata yang harus kamu temukan. Nah, untuk mempermudah kamu, di sini kami sajikan kunci jawaban WOW (Words of Wonders) secara lengkap khusus buat kamu yang kesulitan menyelesaikan teka-teki di level tertentu.
Baca juga: Kumpulan Game Teka-Teki Silang Android Terbaik
Berikut ini adalah Kunci Jawaban WOW (Words of Wonders) Lengkap. Silahkan klik di tiap kota atau tempat wisata untuk menemukan kunci jawabannya.
MESIR
PERANCIS
CHILE
SPANYOL
TURKI
JEPANG
RUSIA
NORWEGIA
JERMAN
ITALIA
CINA
INDIA
BRAZIL
AMERIKA SERIKAT
AFRIKA SELATAN
SWEDIA
AUSTRALIA
KOREA SELATAN
Baca Juga: Kunci Jawaban WOW Search
Taiwan
Swiss
Portugal
Polandia
Yunani
Argentina
Malta
Meksiko
Inggris
Finlandia
Kolombia
Rumania
Belanda
Kazakhstan
Jika ada kesalahan penulisan level dalam Kunci Jawaban WOW (Words of Wonders) Lengkap ini silahkan beritahu kami di kolom komentar ya.. Karena game WOW di update secara berkala, bisa saja ada kunci jawaban dalam artikel ini yang menjadi kurang tepat karena beberapa perubahan/pembaruan dalam game.
Kunci Jawaban Game Teka-Teki: TTS Asli – TTS Cak Lontong – TTS Pintar – TTS Santai – WIB: TTS Cak Lontong – WOW (Words of Wonders) – WOW Search