Kunci Jawaban Brain Test Level 1 – 417 Lengkap – Menyusul kesuksesan game-game bertema puzzle/riddle dengan solusi yang out of the box seperti Brain Out, kini hadir lagi permainan serupa dengan title Brain Test: Tricky Puzzles.
Game Brain Test sudah diunduh lebih dari 100 juta pengguna di Google Play Store (link download). Sampai saat ini, sayangnya belum ada versi bahasa Indonesia seperti halnya Brain Out, jadi bagi kamu yang bahasa Inggrisnya pas-pasan mungkin agak kesulitan memainkan permainan ini.
Update: versi terbaru sudah tersedia dalam bahasa Indonesia, dengan judul Brain Test: Asah Otak Kocak.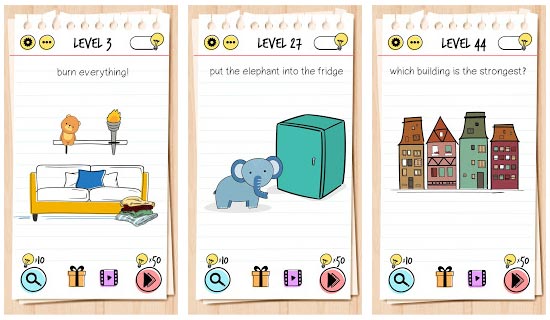 Bagi kamu yang buntu di level-level tertentu setelah memainkan game ini dan gak sabar buat nyari tau solusinya, berikut admin CadeMedia.com sajikan kunci jawaban Brain Test: Tricky Puzzles Level 1 – 417 lengkap.
Itulah seluruh kunci jawaban game Brain Test: Tricky Puzzles lengkap dari mulai level 1 sampai dengan 417. Jika ada jawaban atau solusi yang tidak work silahkan beritahu di komentar ya, biar kami perbaiki sesuai update terbaru di game.
Jangan lupa cek juga mode Brain Test Level Mingguan:
Untuk game Brain Test versi terbaru (Tricky Stories), silahkan cek di sini :
Dan untuk versi yang paling baru, bisa kamu cek di sini : Brain Test 3: Petualangan Cerdas dan Brain Test 4: Sobat Rumit.