Kunci Jawaban WoW Level 21, 22, 23, 24, 25, 26, 27, 28, (Menara Eiffel) – Ini adalah kunci jawaban level 21 sampai dengan 28 dari game teka-teki Words of Wonders (WOW) buatan developer Fugo Games.
Game Words of Wonders (WOW) ialah game asah otak berkonsep teka-teki silang, yang menguji kecakapan kamu dalam perbendaharaan kosakata. Permainan yang telah diunduh lebih dari 60 juta pengguna ini bisa kamu unduh dari Google Playstore maupun iOS Store.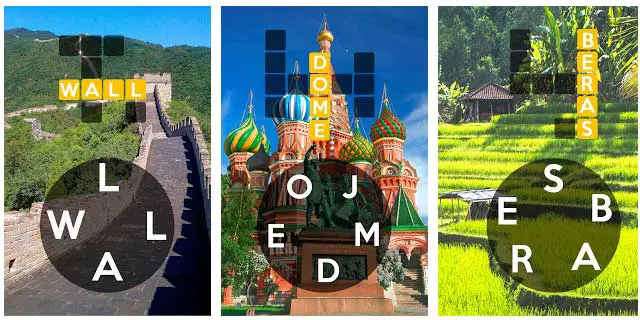 Permainan Words of Wonders (WOW) dapat membantumu meningkatkan kosakata asing. Sebab, kamu dapat memainkannya dalam bahasa Inggris, Indonesia, Spanyol, Prancis, Latin, Belanda, Melayu dan sebagainya.
Cukup simpel untuk bermain game Words of Wonders (WOW) ini. Kamu akan mendapatkan 4, 5, atau 6 huruf melingkar sebagai petunjuk awal. Kemudian, susun huruf-huruf ini menjadi bermacam istilah sampai kotak kosong teka-teki itu semuanya terisi.
Berikut ini Kunci Jawaban WOW Level 21 s/d 28 (Menara Eiffel).
Level 21
Inilah dia kunci jawaban WOW (Words of Wonders) di level 21.
JAMAN
MANJA
AMAN
MANA
NAMA
JAM
Bonus Kata: AJA, AMA, ANA, ANJA, MAJA, MAN, NAAM, NAJAM
Level 22
Inilah dia penyelesaian game Words of Wonders level 22.
SUPER
PERU
SERU
PERS
SUP
PER
Kata Ekstra: ERU, PERUS, PES, PRE, PRES, PURE, PUS, PUSER, RESU, SEP, SEPUR
Level 23
Inilah solusi game WOW (Words of Wonders) di level 23.
LIANG
GILA
LAGI
LIGA
LAIN
NILA
IGA
Kata Ekstra: AGIL, AIN, ALI, ALIN, ALING, ANI, ANIL, GAI, GAIL, GAIN, GANI, GIAL, GIN, IGAL, INA, INGA, LAI, LANG, LANGI, LIAN, LIGAN, LIN, LING, NAL, NALI, NIA
Level 24
Ini dia kunci jawaban game WOW level 24.
SUDAH
ADUH
ASUH
HAUS
USAH
DUS
SAH
DUA
Kata Tambahan: ADU, ASU, AUS, DAH, DAS, DUH, DUHA, HAD, HAS, HASUD, HAUD, HUDA, HUS, SAD, SADU, SAHDU, SAUH, SUA, SUAH, SUDA, SUH, SUHAD, UDA
Level 25
Inilah dia kunci jawaban permainan Words of Wonders level 25.
TABIB
BABI
TIBA
BAB
BIT
IBA
Kata-kata ekstra: ATI, BABIT, BATI, BIAT, TABI, TAIB, TIB
Level 26
Penyelesaian game Words of Wonders untuk level 26 dapat kamu baca dibawah.
BALON
ABON
BOLA
ALON
BON
NOL
BAN
Bonus Kata: BAL, BAO, BOL, LAB, LOB, LOBA, LOBAN, NAL, NOA
Level 27
Di bawah ialah kunci jawaban level 27 game Words of Wonders (WOW).
KUMIS
MUSIK
MUSI
KUIS
SIKU
USIK
SKI
ISU
Kata Tambahan: KIM, KIMUS, KIU, KSI, KUI, KUS, MIK, MUK, MUS, SIM, SIUK, SUK, SUKI, SUM, UIK, UIS, UMI
Level 28
Penyelesaian Words of Wonders level 28 dapat kamu cek dibawah.
SERBI
BESI
BERI
RESI
SERI
EBI
BIR
Kata Ekstra: BIS, ERBIS, SIR, SRI
Tahukah kamu?

Menara Eiffel merupakan sebuah menara besi yang dibangun di Champ de Mars di tepi Sungai Seine di Paris.
Level Sebelumnya: Kunci Jawaban WoW Level 13, 14, 15, 16, 17, 18, 19, 20 (Laut Merah)
Level Selanjutnya: Kunci Jawaban WoW Level 29, 30, 31,32, 33, 34, 35, 36, 37, 38, 39, 40 (Notre Dame De Paris)
Artikel Utama: Kunci Jawaban WOW